Air Conditioners
As a homeowner, one of the more harder decisions you'll have to make about your home air conditioner is when it's time for a new home air conditioning system.
You're researching online or have heard talk about variable speed AC compressors, two-stage compressors and the single stage compressor and Seer ratings. let us help by explaining some of those systems and terms.
What Does the SEER Rating of an AC system Mean?
An air conditioning systems energy efficiency is classified by the S.E.E.R. rating. The SEER, which stands for (seasonal energy efficiency ratio), rating of the energy efficiency an air conditioning unit during a full summer season of operation. Using an air conditioning system with a higher SEER rating means the AC system uses energy more efficiently than an air conditioning unit with a lower SEER rating. Higher Seer rating saves you money on your home cooling utility bills.
AC Capacity (Ton)
TWe know that the air conditioner's capacity number of tons doesn't refer to its weight. This number actually refers to the amount of heat In British Thermal Units (BTU) the air conditioner system can remove from a house within one hour. One ton of AC capacity is 12000 BTU's per hour. So why is it based on a ton you ask, i know your wondering, believe it or not is based on a 2000 pound block of ice.
Before the invention of refrigerators and air conditioning, people who could afford it, used blocks of ice to cool their homes and food. The math is based on the melting (heat transfer) of a 2000 pound block of ice over a 24 hour period at 32 degrees f. Measurement terminology are one of the only things that stand against the test of time and progress, its why horsepower is still used for cars and candle power is still used for light intensity.
Single-Stage AC Compressor
A single stage AC compressor operate at one speed all the time full cold, the thermostat controls the temperature in the house by turning the AC system and compressor on and off. From an efficiency standpoint, these are the least efficient type of air conditioning systems, as they are always running at full cold. A compressor draws the most power when it turns on. That is why you will see your lights flicker when your air conditioner turns on. I am sure you have heard your neighbors AC turning on and off all day and night long. This equals a large power bill every month.
Two-Stage / Multi Stage AC Compressor
The two stage AC compressor means the compressor has two levels of operation: high for the very hot Summer days and low for milder Summer days.
A two stage AC unit is like actually having two units for the price of one. On milder days the compressor comes on initially at 70% and if it can't cool your house at that level it then moves to 100%. Since the low setting is adequate to meet home cooling demands 80% of the time, a two-stage unit runs for longer periods and produces a more even leveled home indoor air temperature. The two stage compressor is more efficient than the single stage compressor because it doesn't cycle on and off as much, which means less wear and tear on the compressor.The two stage system also removes twice as much humidity as the single stage system because the two stage stays on at the lower level for a longer period of time.
Variable-Speed AC Compressor
The Variable speed compressor is the quietest most efficient offering we have today. It operates at different speeds depending on the need for cooling, anywhere from 35-100%. These compressors offer more speeds than the two stage systems. This allows the AC to cool your home at lower speeds for longer periods of time while still having the higher speeds available for when the outdoor temps get higher. The variable speed AC systems run longer without cycling on or off and stays only at the speed needed to keep you comfortable. This makes the variable speed system the most energy efficient of the three types.
Air Conditioners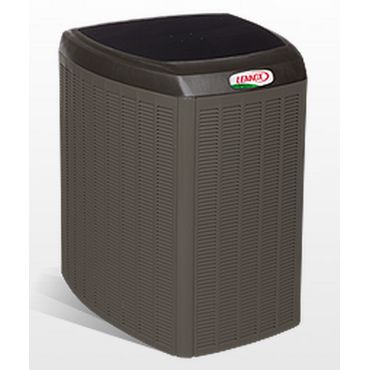 Lennox Signature Colection XC 25
Stages of Cooling Variable-capacity operation
Up to 26 SEER
ENERGY STAR®
Sound Level As low as 59 dBA
Cabinet PermaGuard Cabinet and SmartHinge Louver Design
R-410A refrigerant and Solar Ready
Tax Credit Eligible: Yes
On-board Diagnostics iComfort -enabled technology
10-Year Limited Warranty on covered components including compressor
Tax Credit Eligible: Yes
Lennox Elite Series EL16XC1
Up to 17 SEER
Energy Star Rated
Sound level As low as 71 dB
Cabinet PermaGuard Cabinet and SmartHinge Louver Design
Compressor: Single Stage
Controls supported: Designed to work with ComfortSense CS7500
10 year limited warranty on the compressor
5 year limited warranty on all remaining covered components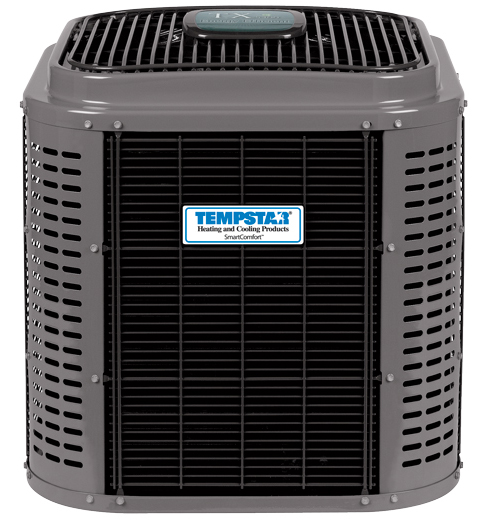 Tempstar TCA7 Deluxe
Up to 17 SEER
Energy star qualified
Sound level as low as 70 dB
Refrigerant Type: R-410A
Two-stage compressor for improved temperature and summer humidity control
Two-speed fan works with compressor for better levels of quiet, efficient operation
Controls supported: Observer communicating control
Durably built with tight wire grille and protective corner posts to withstand bad weather and debris
Designed for corrosion resistance and lasting performance
10-Year No Hassle Replacement Limited Warranty
10-Year Parts Limited Warranty