No Heat Checklist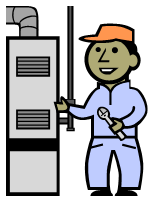 What you should check before you make a service call on your heating system...
Is the filter clean? A dirty filter can cause low air flow thru your furnace and cause it to stop working.
Is the power turned on? Check the breaker and the electric switch by your furnace.
Is the gas turned on? Check the gas meter outside and the gas cock at the furnace.
If you have propane or oil make sure you have fuel in the tanks.
Is the thermostat set to "HEAT"?
If your thermostat is electronic, are the batteries charged? Is the display showing?
Is the temperature set at least 3 degrees above current room temperature?
Some heating systems also have emergency cut-out switches that are activated when a door or service panel is removed. Often the furnace door is not replaced properly after a filter cleaning/change and the cut-out switch will prevent the furnace from coming on. Check to make sure all access doors are properly fitted and secured.
Make sure the PVC vents pipes (if you have them) are clear of debris. If PVC vent pipes are clogged or partially clogged they will not allow your furnace to operate.
If you have an older gas furnace with a standing pilot (one that is on all the time) look inside your furnace to see if it is on. If not, follow the instructions on the furnace to re-light the pilot. If after following the instructions, the pilot will not light or stay lit, call a service technician.